My apologies for a more serious sounding Blue Alaska this week, but honestly in light of recent political events, there's not a lot of funny and arguably, taking away the rights of women isn't something we should make light of.
It's all about Mary…
Without question, the earthquake generated by Rep. Don Young's death rocked Alaska's political landscape, and some three months later, we're still feeling the aftershocks.
Over the weekend, the Alaska Supreme Court upheld a lower court's ruling that will keep Republican Tara Sweeney off the ballot for the August Special Election in Alaska's U.S. House race. This makes the Congressional Special Election a three-way race pitting extremist MAGA Republicans Sarah Palin and Nick Begich against one another AND Democrat Mary Peltola.
Last week, Alaska's very own Santa Claus – (U) North Pole, invited his supporters to vote for Mary Peltola as she shares many of his progressive views. Santa, making efforts to rally support around Mary, speaks volumes about his character.
Mary recognizes the devastating effects climate change is having on Alaska and sees the need to prioritize solutions to the crisis. She's a staunch ally of the LGBTQ+ community and has called for passage of the Equality Act. Mary supports efforts to reduce the wasteful bycatch of Alaska's seafood by Seattle-based high seas fishing corporations — you can read her trawler statement here.
Importantly, Mary supports a woman's right to choose and in a video message released on Friday, hammered that message home telling Alaskans she would unequivocally support legislation codifying the right to a safe and legal abortion. Watch Mary's message on reproductive freedom ⬇️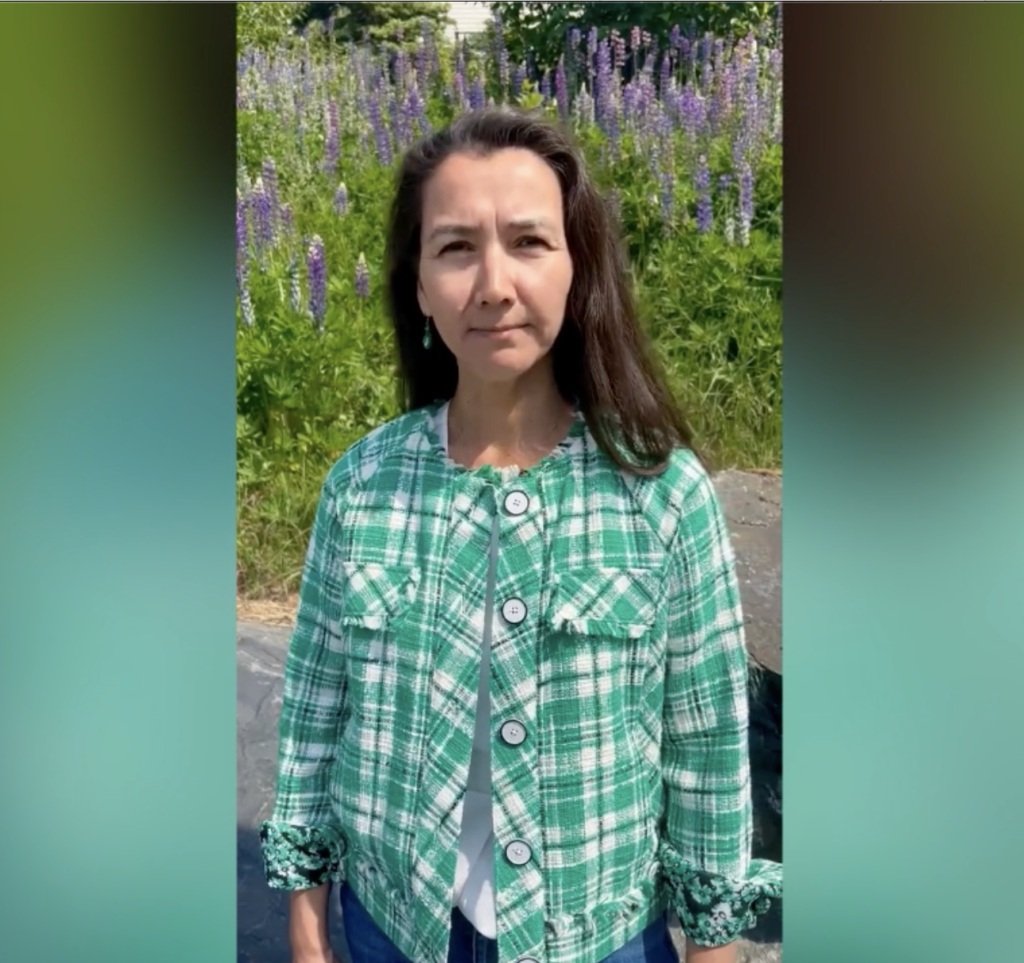 On Sunday, Mary participated in a candidate forum hosted by the Alaska Black Caucus, which provided an opportunity for candidates to speak directly to the pressing issues and questions emerging from Alaska's BIPOC community as it relates to the US Congress.
Mary truly knocked it out of the park and I lost count of the number of times Nick and Sarah said that they agreed with her on various issues. The forum is an hour long but definitely worth watching especially if you're not familiar with Mary's positions. ⬇️ 🔥

Trump sycophant Alaska Governor Mike Dunleavy also issued a message on Friday only it wasn't in support of women's rights. Instead, MAGA Mike said he's introducing a resolution for a proposed constitutional amendment. Dunleavy's move here is to step on the necks of women while selfishly pandering to voters as an attempt to further entrench himself at the top of the right-wing patriarchy.
You have to wonder if Dunleavy is doing Trump's bidding, if only because of that bit of political hostage taking Trump put on the table last year. 'I'll endorse you if you don't endorse Murkowski,' is very normal behavior and of course accepting the terms of Trump's endorsement — also very normal behavior. 🙄
Rumors have been circulating over the past couple of weeks that the Insurrectionist in Chief himself is coming to Alaska to stump for MAGA extremist and U.S. Senate candidate Kelly Tshibaka. Over the weekend, Rep. Mary E. Miller (R) gave a speech at a Trump rally, calling the Supreme Court's decision to overturn the nationwide right to abortion a "victory for white life."
Naturally, Trump himself smiled and nodded approvingly (YIKES), and Miller herself began clapping as spectators, some clutching red "Save America" placards, also began to applaud (when people tell you who they are, believe them). Watch the lunacy below ⬇️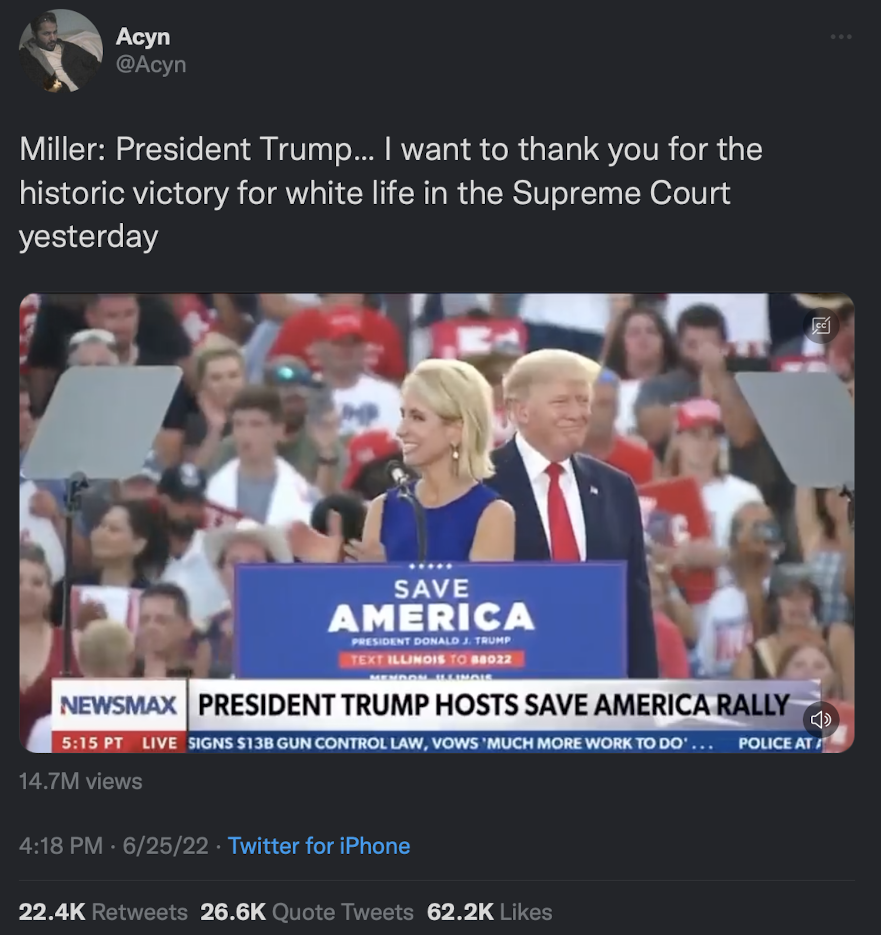 Lisa and the Terrible, Horrible, No Good, Very Bad Day… 👀
Alaska's NRA A-rated U.S. Senator Lisa Murkowski had a bad day recently, and not only is it completely her own-doing, but much deserved. It's heartening to see Alaskans waking up to the realization that Lisa very often says one thing and votes another.
Murkowski, well-known for tossing Democrats and Progressives political crumbs when she's up for re-election, had the nerve to issue a statement about SCOTUS's decision to overturn Roe v. Wade. On Twitter, Lisa was dragged in the comments by Democrats and Progressives for attempting to capitalize on a situation she literally helped create.
Not only did Lisa vote to confirm Trump's pro-forced birth Supreme Court judges, she also voted to install anti-abortion judges on the federal level. We even put out a graphic filled with headlines going as far back as 2017 because reminding people about Murkowski's blatant dishonesty is important. ⬇️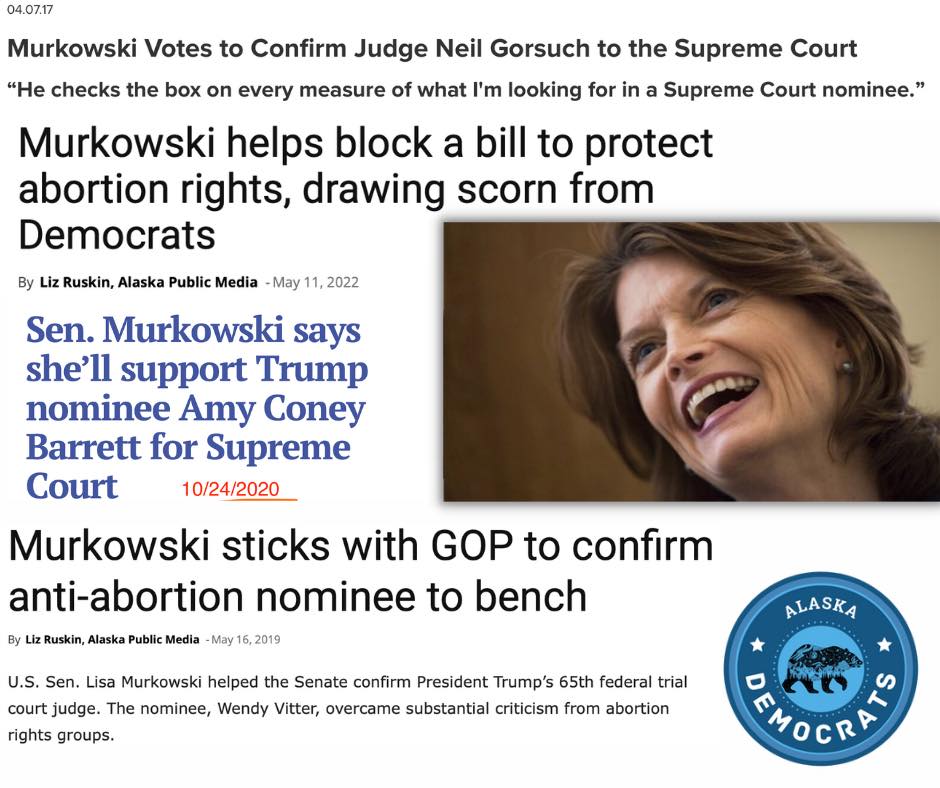 And don't forget that in May, both-sides Lisa voted to block a bill that would have codified Roe into law. I guess when you have a super-PAC aligned with Mitch McConnell throwing $7 million dollars at your re-election even after you've raised $5.2 million of your own money, you probably feel like you can say whatever you want and get away without too many people noticing or asking questions.
Unlike Murkowski, Democratic candidate for U.S. Senate Pat Chesbro has been crystal clear about where she stands on the issues of reproductive freedom, gun control, climate change and economic development.
With ranked choice voting, Democrats and Progressives have the opportunity to vote for a candidate who has the courage of her own convictions.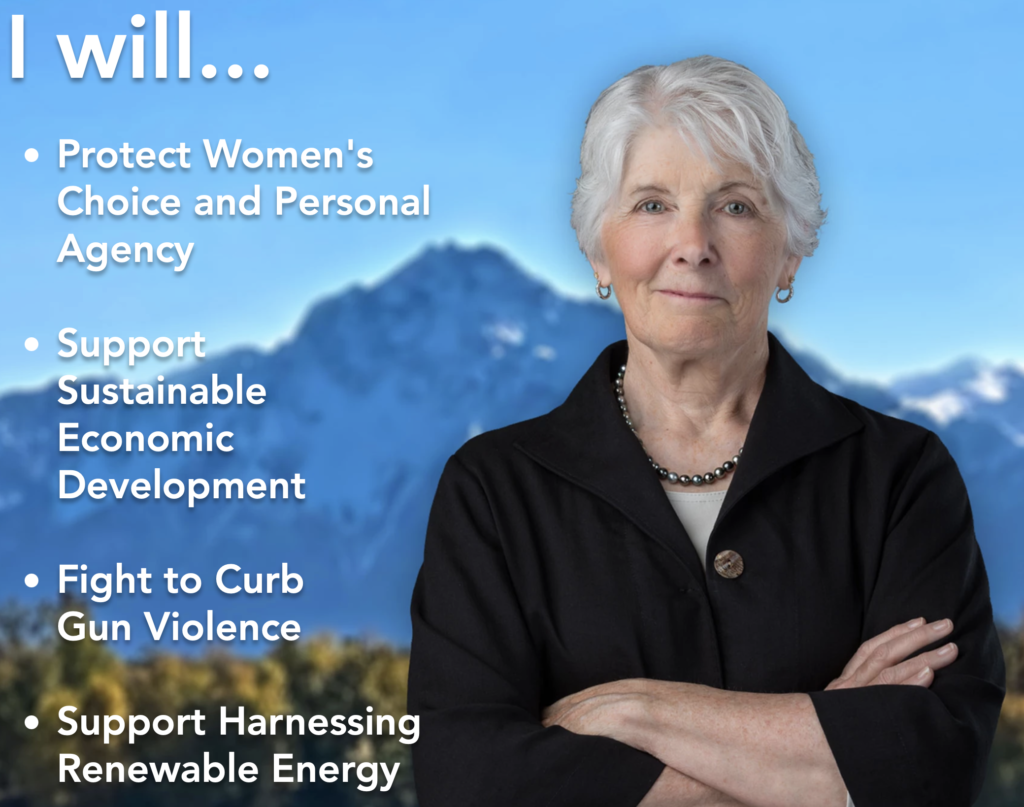 The Chesbro campaign has spent a lot of time building out its campaign website and honing its social media messaging. You can read Pat's statement on the reversal of Roe v. Wade here and after you do, be sure and sign up for Team Chesbro's newsletter so that you can stay up to date with the latest campaign happenings.
Gara-Cook are cooking!
Democratic candidates for Governor and Lt. Governor Les Gara and Jessica Cook have been traveling around Alaska reminding voters that they're the only pro-choice ticket running in the Governor's race (it's a true statement by the way).
If elected, Gara has promised to stand with women by vetoing anti-choice legislation and screening judicial candidates to make certain they'll leave their politics at the courthouse door and follow existing Alaska court precedent protecting choice. In a statement on his website, Gara laid out his concerns about voters electing a pro-forced birth governor:
"The danger is that, like the U.S. Constitution, there is no explicit statement in our constitution on a woman's right to choose. Federal judges have reversed 50 years of precedent to say choice is no longer covered by federal constitutional "privacy" protections. If a future Governor picks anti-choice judges, they, too, can take the same hard right turn. The wrong state judges, like their wrong federal counterparts, can also rule Alaska's right to privacy doesn't cover a woman's right to choose."
Gara means what he says — he's literally the only candidate for Governor who has put himself out there and publicly taken a stand in support of women and reproductive freedom. Likewise, Jessica has made her position on reproductive freedom clear, promising to always respect and support a woman's right to choose what happens to her own body.
Who should you vote for in this election? The choice is simple.
And in case there's any lingering doubt about how important a role the Supreme Court decision to strike down Roe v. Wade will play in this year's elections, check out this video I took in downtown Anchorage on Friday. Rep. Matt Claman and state senate candidate Janice Park were both out marching in support of protecting women's rights. The video has been viewed around 4 thousand times between all of our social media platforms. Watch it below.
Make no mistake, reproductive freedom is on the ballot this November.
Seen in Fairbanks…
It looks like Rep. Hopkins held a successful campaign kickoff event in Fairbanks over the weekend! The picture was shared by Sen. Scott Kawasaki, who was in attendance.
Re-electing Rep. Grier is vital — he has a proven track record of fiscal responsibility, passing balanced budgets and will always put the greater good first. He's committed to continuing to strengthen Alaska's economy, support education and will always protect against attempts to raid the permanent fund.
Visit his campaign website to find out how you can support his re-election efforts!
---
Also seen in Fairbanks was this brand new Facebook cover courtesy of Alaska MAGA Republican Kelly Nash. The screenshot is currently making the rounds on social media. I wouldn't want to speculate about the meaning behind the meme but I'll go out on a limb and say that from where I'm sitting it sure looks like the life of the mother is in danger!
If I've said it once, I've said it a thousand times, MAGA Republicans are too extreme to hold political office and simply can't be trusted, which is why electing House District 31 candidate Maxine Dibert is imperative.
Hate & discrimination in Mat-Su
By now, many of you have heard the hurtful news that six members of the supposed non-partisan Mat-Su School Board carried the anti-LGBTQ torch of Alaska MAGA Republican Sen. Shelly Hughes over the finish line by passing a grotesque, discriminatory and hateful transgender athlete ban.
That the school board made the resolute choice to pass this egregious ban during Pride Month or even at all, can be interpreted only as a signal that a larger assault against Alaska's proud LGBTQ+ community and its allies is forthcoming.
We want to be clear that this month and every month, the Alaska Democratic Party stands with the LGBTQ+ community's fight for equality. We are committed to electing candidates who will work tirelessly to ensure that all Alaskans are treated with dignity and respect in their communities, their workplaces, and their schools.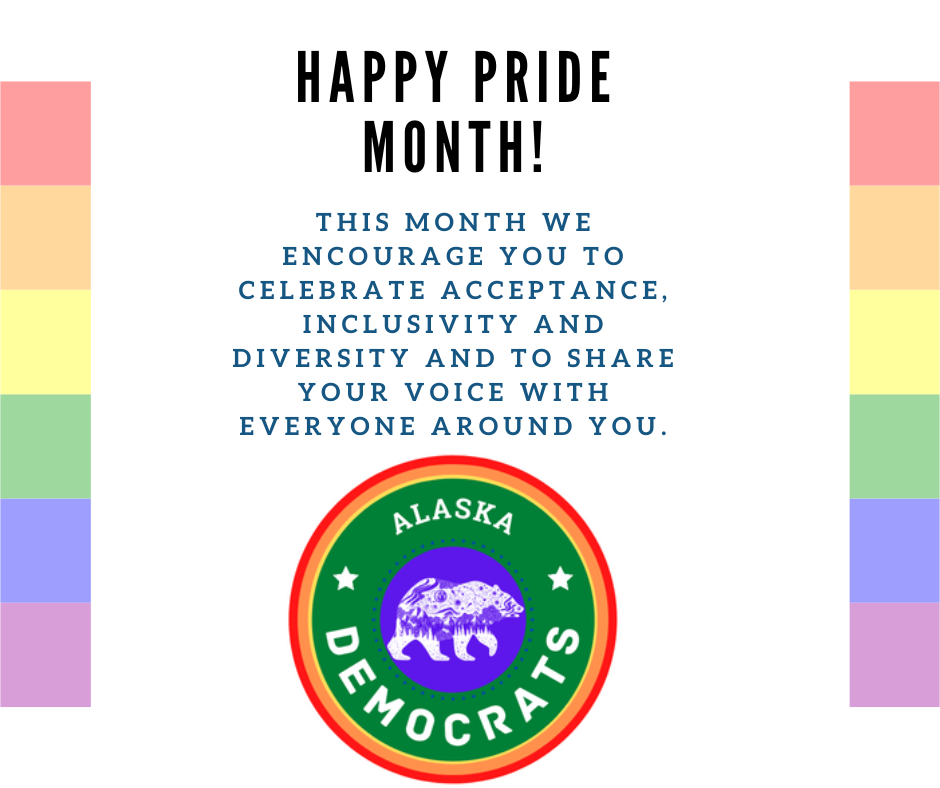 Elections really do have consequences and we can't stress enough the importance of exercising your constitutional right to vote in every election. It may not often feel like it, but your voice and your vote make a difference.
This and that
We've spent a lot of time updating our website to add additional functionality ahead of this year's elections. You can now easily find old editions of Blue Alaska, statements, press releases, events and candidate listings with the click of a mouse or your finger.
ADP is also further spreading its message across social media with the launch of our official TikTok account. Give us a follow! As a reminder, you can always find us on Facebook, Twitter and Instagram as well.
In observance of Independence Day, ADP offices will be closed July 1- 4. Be safe over the weekend and recharge your batteries because there's a lot of work to be done ahead of November! 🎆
That's it for now! Remember, to help us do what we do at a time when it's very clear that it needs to be done, click HERE to support ADP once, or become a monthly donor!
And as always, thank you for doing what you do to make Alaska a little (or a lot) more blue.
Matthew