What the Alaska Republican party stands for and believes in may be grotesque, but their leadership isn't stupid. After two years of their party members spreading lies and conspiracy theories about everything ranging from COVID-19, masks, and vaccines to making baseless allegations of widespread election fraud, they know their candidates need to conceal what they believe.
Alaska's feckless governor, for example, has been trying to position himself as more moderate. ::drumroll:: HE'S NOT, and I think being photographed while canoodling with far-right anti-government extremists pretty much proves it.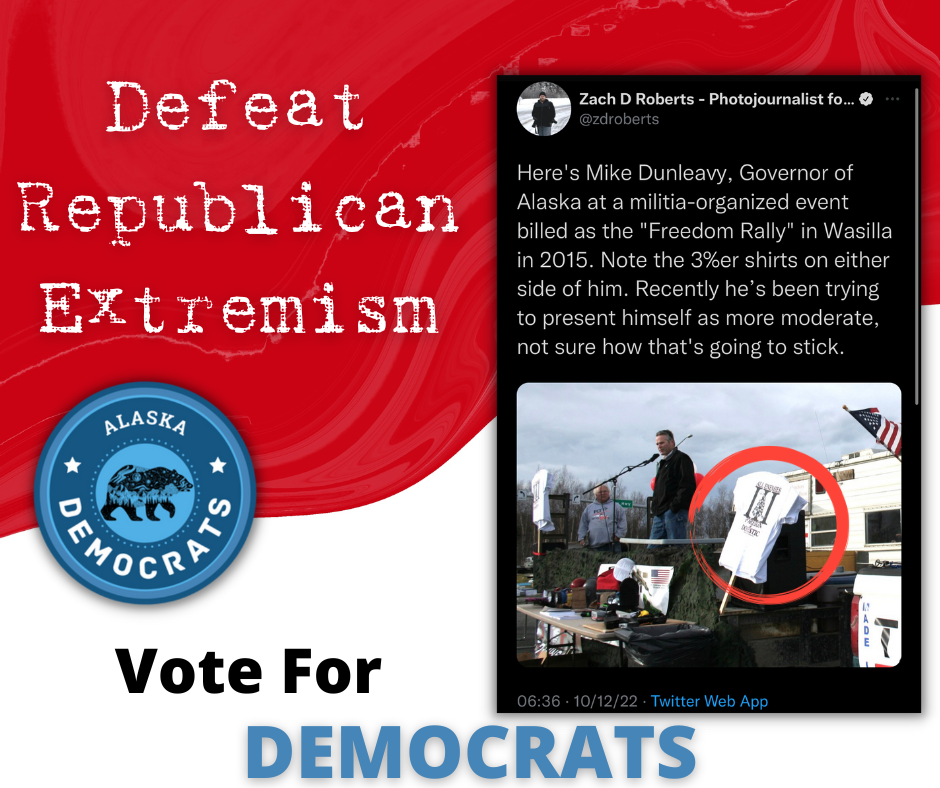 If you think hanging out with the 3% crowd is terrible, get a load of this! He also appears in the Insurrection Index for supporting alleged nuclear document thief Donald Trump's "Big Lie."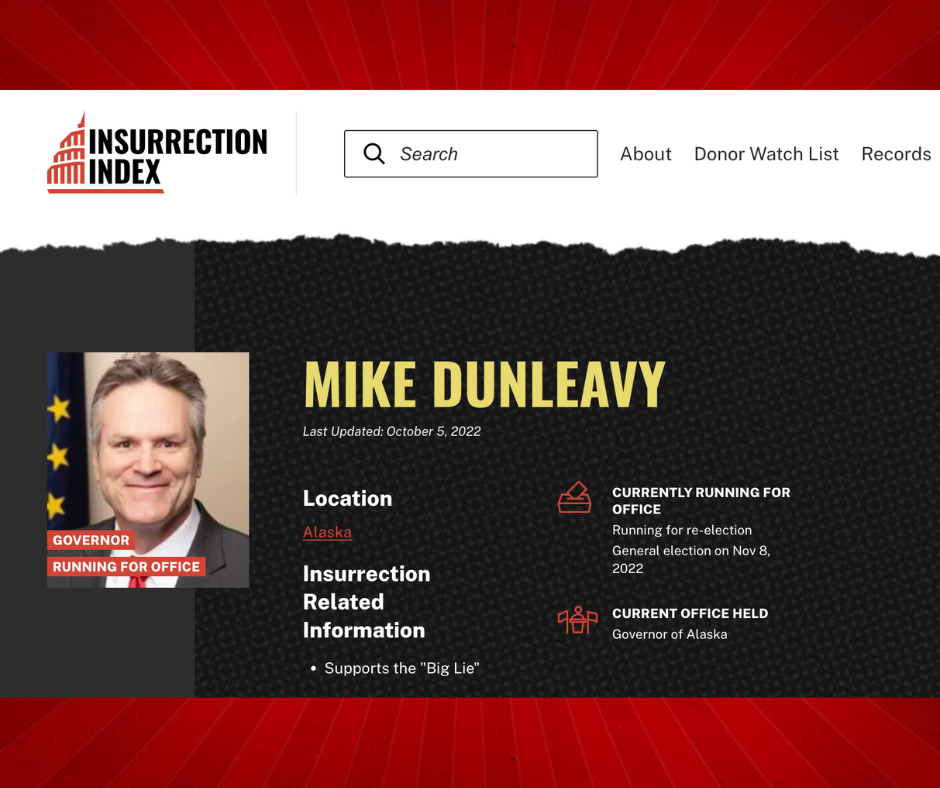 Congrats Mike!
The Alaska Democratic Party has endorsed fierce public education advocates Les Gara and Jessica Cook in this race. The campaign just released its education plan for Alaska. Wouldn't it be nice to have a governor who cares about helping all Alaskans succeed and not just his base?
Rank Gara-Cook first on your ballot!
---
Rep. Andy Josephson's opponent Kathy Henslee is one of the worst and most extreme of all the legislative candidates this year. She's mostly minimized and dismissed the reality of what Trump's supporters did when they stormed the U.S. Capitol on January 6.

She, like Dunleavy's ousted gubernatorial chief of staff, former Republican Tea Party Chair, and behind-the-scenes operative Tuckerman Babcock, belongs to the far-right nightmarish "Save Anchorage" Facebook group that saw one of its members arrested by the FBI for their "alleged" participation IN the U.S. Capitol riot…
…at least according to the FBI's statement of facts!
Many group members went so far as to celebrate the attack on our nation's Capitol, with one calling the storming of the Capitol a "necessary evil." Yikes!
Oh, and "Save Anchorage" member Kathy Henslee also appears in the Insurrection Index alongside Rep. David Eastman, Governor Dunleavy, Sarah Palin, and "emerging threat" Kelly Tshibaka.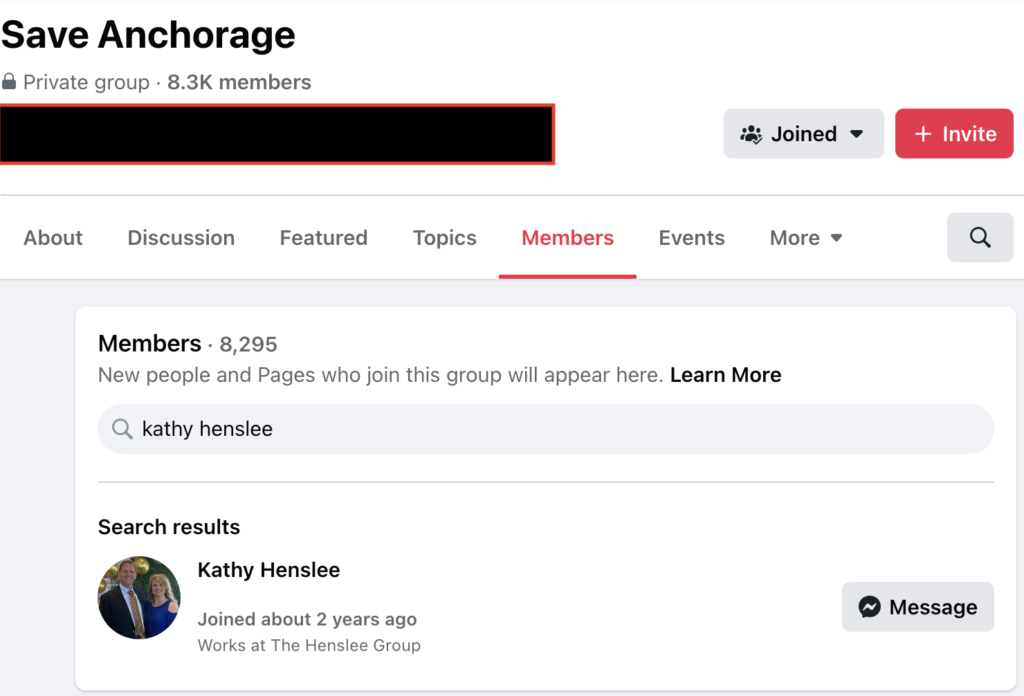 A "Big Lie" congrats to you, Kathy! Way to represent your group!!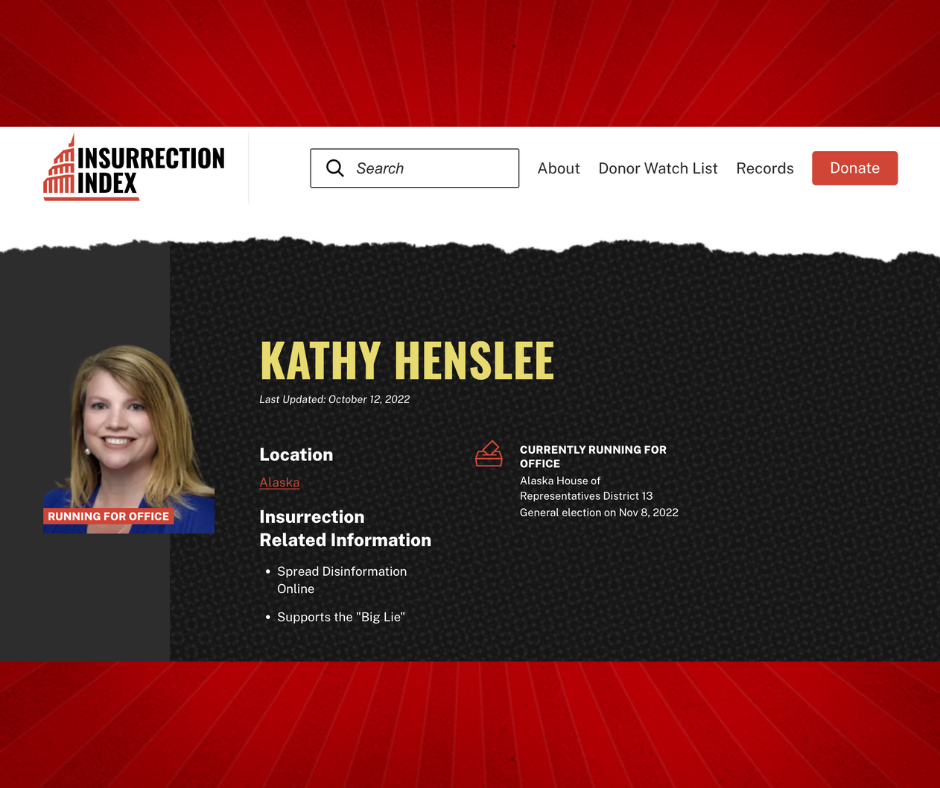 If you're still not convinced that Henslee is an extreme right-wing Republican, I submit that hopping on a plane to attend a Mar-a-Lago fundraiser demonstrates how woefully out of touch with documented historical facts she is.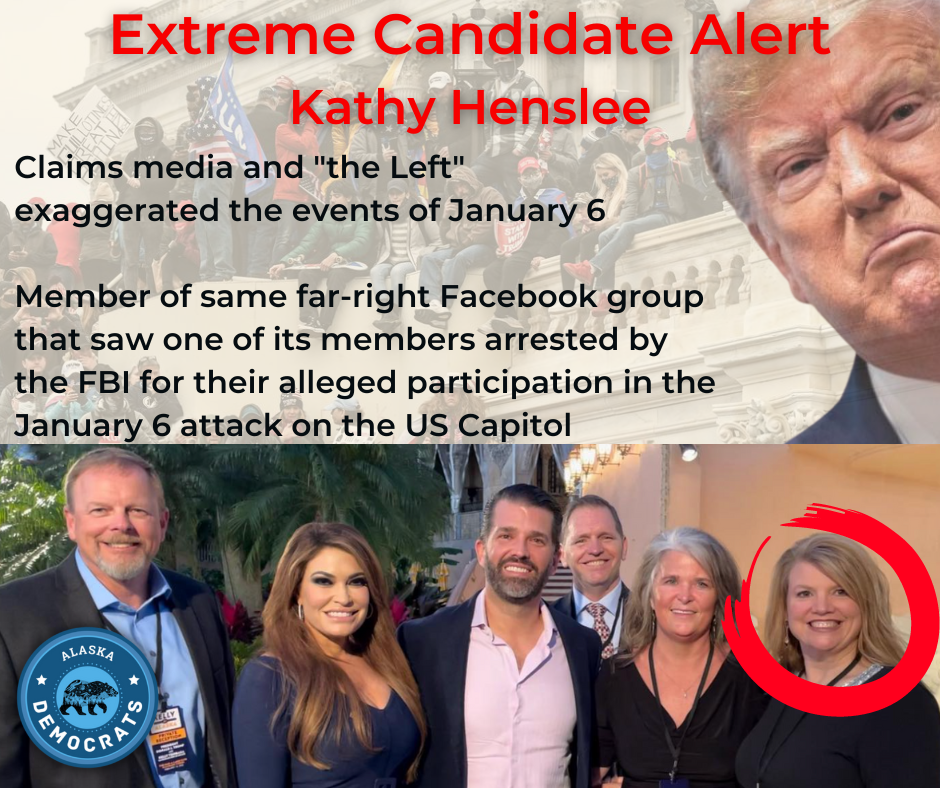 House District 13 folks – you've got to turn out for Rep. Josephson! We can't let this seat go to such an out-of-touch radical like Kathy Henslee. Too much is at stake!
---
Have you ever heard of Alaska Republican Stanley Wright? Not many have, even though he ran (and lost) against Rep. Ivy Spohnholz in 2018. What does he believe? Well, that's a great mystery because the priorities he ran on in 2018 have mysteriously evaporated from the internet! This year we're left with generic statements on his website asserting politicians are "out of touch." (Pot meet kettle).
Unsurprising is that Wright also runs in the same social media circles as Kathy Henslee and Tuckerman Babcock.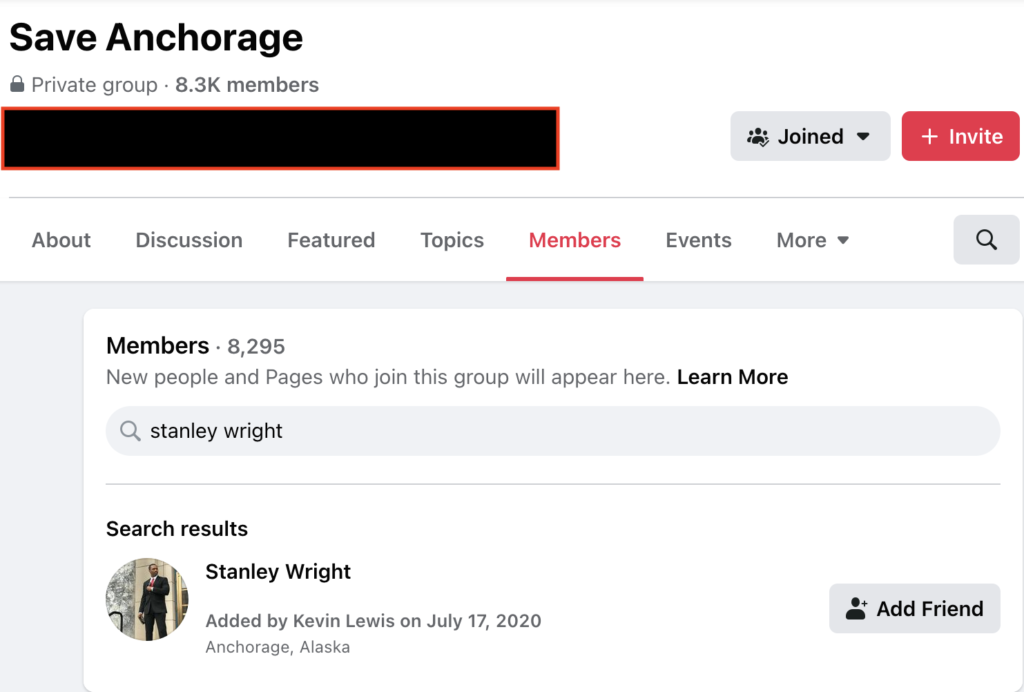 Given his association with far-right Alaska figures, including his former boss, extremist Gov. Mike Dunleavy, and his affiliation with that "Save Anchorage" group we were talking about, I think we can reasonably infer what he stands for. He doesn't have the intestinal fortitude to come out and tell voters but instead chooses to hide behind well-lit photographs and smiles with Trump's former Vice President and pro-forced birther Mike Pence!
Yeah…we're going with Ted Eischeid in this race. He's working incredibly hard to win because he understands what's at stake for the people of House District 22. Ted is a force for good and needs our support to win!
---
What about Forrest Wolfe, you ask? Well, he's somewhat of a magician, given that his social media accounts keep disappearing and reappearing. Wolfe is running against Donna Mears in East Anchorage; we're just not sure how familiar he is with House District 21 since he's a relative newcomer there.
But, like the others above, we know he runs in the same (shocker) social media circles as Henslee, Babcock, and Wright. See the pattern yet?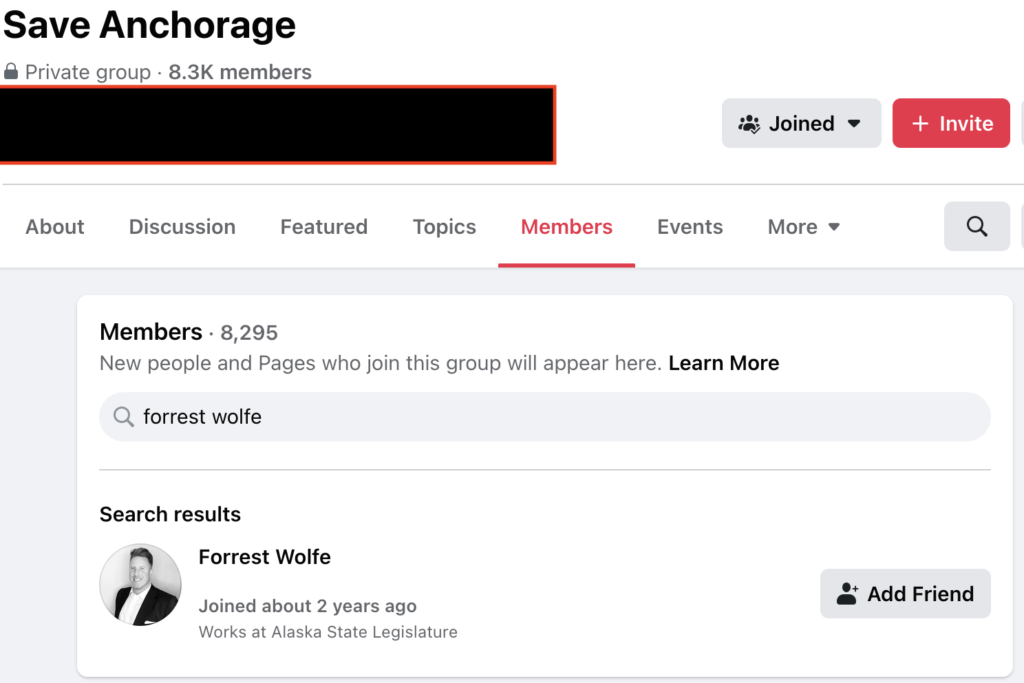 Practically speaking, Wolfe is nothing more than a political opportunist who appears to have moved to East Anchorage at the urging of Lance Pruitt & Gov. Dunleavy. Worse, imagine the mental gymnastics it takes for someone to justify sending out a campaign mailer taking credit for the PFD!!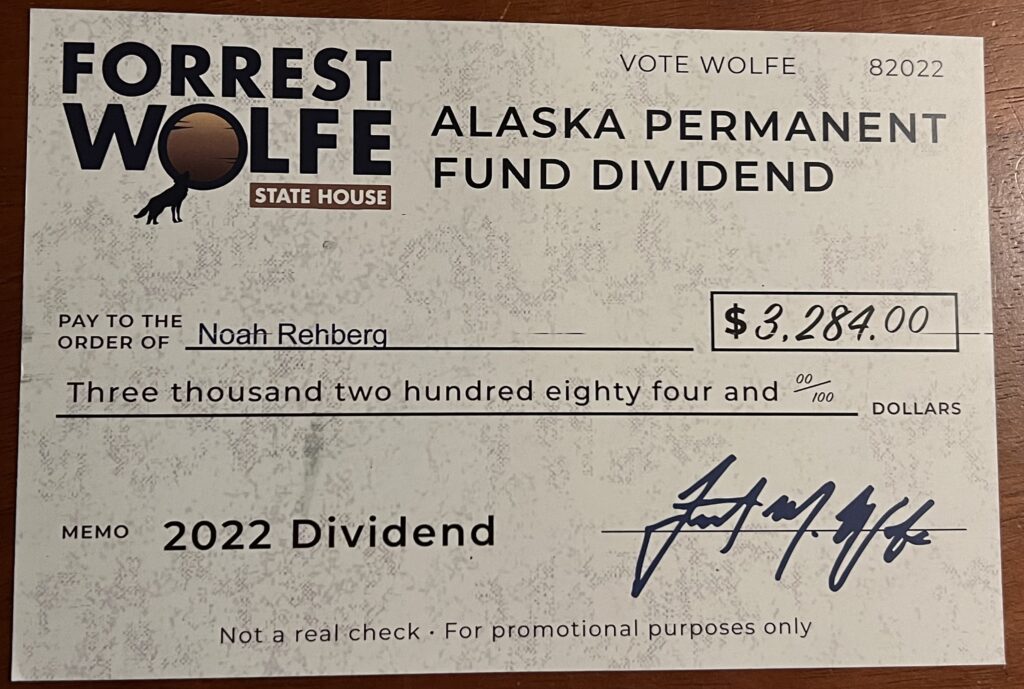 ::checks notes::
Nope! Wolfe is a legislative staffer, NOT a legislator. But this is the kind of misleading disinformation we've come to expect from the radical right, very much like when Wolfe misleads people on his website about his ties to Anchorage.
It's an infrequent occasion when we call someone a liar, but that PFD mailer…it's a whopper!
Donna? She's been a resident of East Anchorage, living in the same home for more than 20 years. I think we know who is best suited to serve East Anchorage — someone who has an in-depth understanding of the district she has called home for over two decades.
Just to tie this all up – these are the 2022 endorsements from the far-right anti-LGBT Alaska Family Council "organization" designed to raise money to influence legislators into supporting socially regressive and bigoted politics.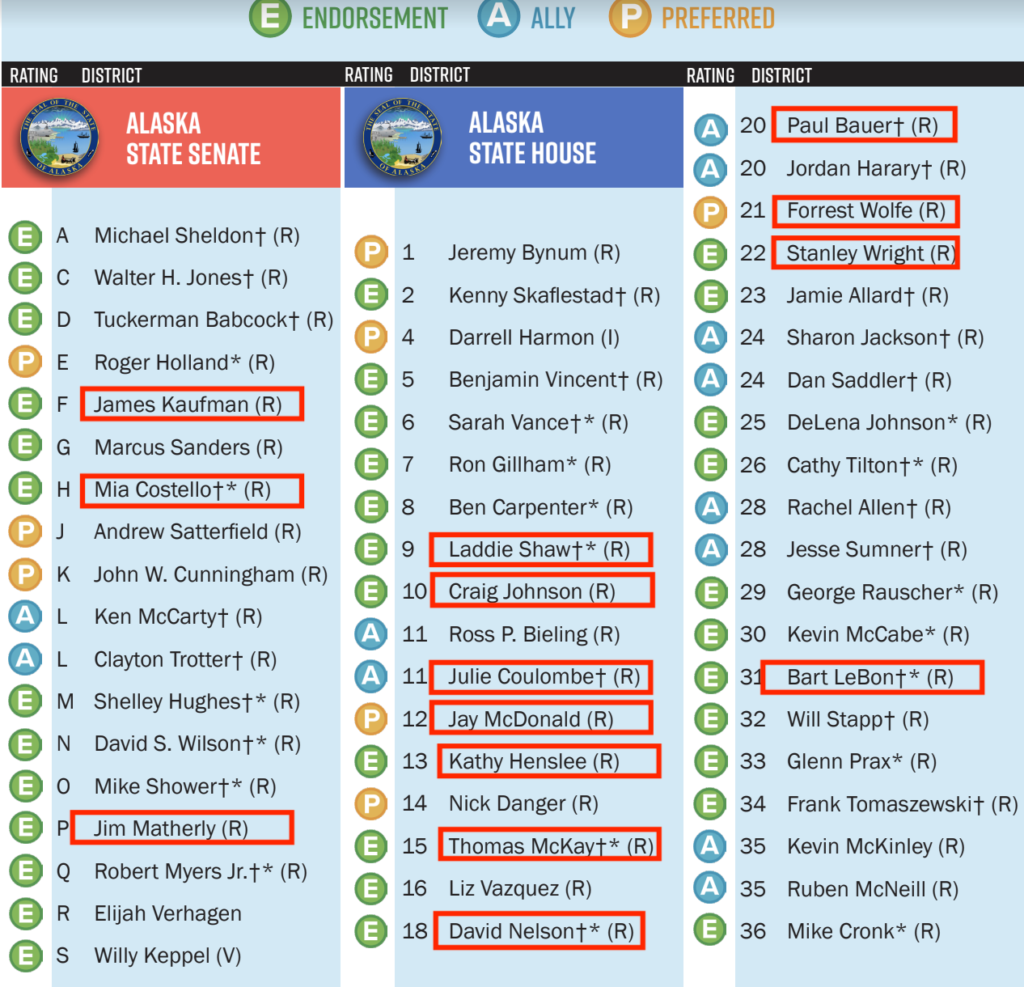 Wolfe, Henslee, & Wright are all either endorsed or the preferred candidates of AFC, in addition to 'Do Nothing' Rep. David Nelson, Jim Matherly, Mia Costello, Tom McKay & Bart LeBon.
If it wasn't clear, this isn't a good list. Vote for the Democratic candidates running in your district. They will fight tirelessly to protect and defend your rights – not strip you of them!
---
U.S. Senate candidate Pat Chesbro is seeing an uptick in the polls, and it's no wonder given that Roe was overturned and Republicans are calling for a nationwide abortion ban.
If you want to get to know her better, Pat was interviewed on the East Anchorage Podcast – give it a listen! The Juneau Empire also did an exhaustive interview with Pat; read it here!
Pat is having an online birthday fundraiser on Wednesday, October 19, from 6-7 PM. Register here! As a lifelong Democrat committed to fighting the climate crisis and Republicans' efforts to strip you of your rights, Pat has earned our support. ADP has endorsed her and encourages you to rank her first!
Reminder!
As you prepare to cast your votes in the upcoming November 8 General Election, we want to remind you that we're supporting staunch pro-choice candidates who will fight like hell to see Republicans fail in their malaligned quest to strip Alaskans of their right to privacy!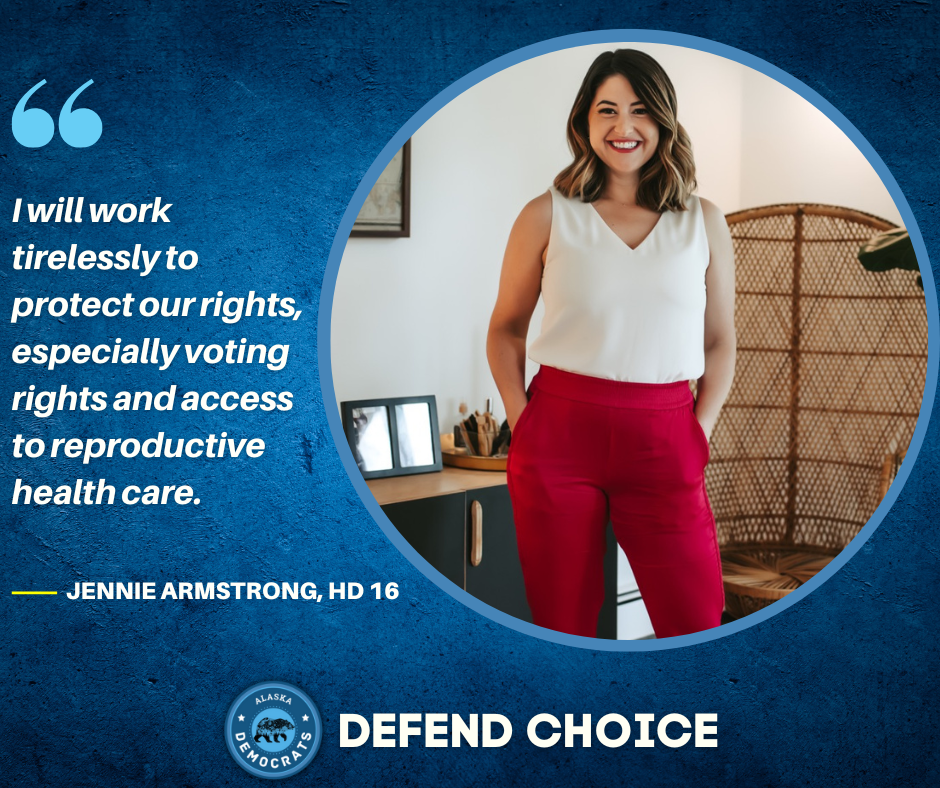 We need you to vote blue all the way up and all the way down your ballots this year so that candidates who care deeply about the direction of our state can get real work done in the Alaska Legislature and help make a better way of life for all of us.
Electing Democratic candidates in November is critical, and the future and direction of our state depend on you exercising your right to vote in the November 8 General Election!
One way you can help elect Democrats like Congresswoman Mary Peltola and Ashley Carrick is to get involved in our four Statewide Get Out The Vote Events!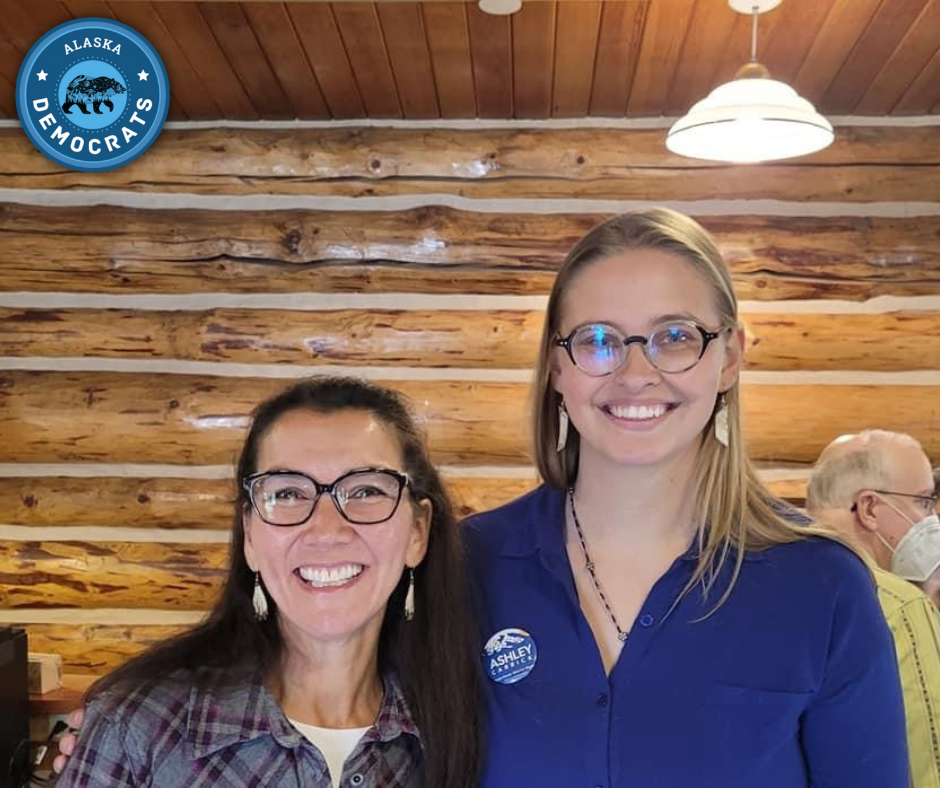 Through these GOTV events, we will come together virtually and in-person to support one another and turn out our voters to ensure that Democrats are elected up and down the ticket!
Please share these opportunities with your friends, family, and other potential volunteers!Virtual Phone Bank #1 (Have a phone? Volunteer from anywhere in Alaska!)
Saturday, October 22, 12:00 PM – 2:00 PM AKT
Canvas + Lit Drop #1 (Anchorage, Fairbanks, with Juneau to come!)
Saturday, October 29th, 12:00 PM-4:00 PM AKT
Canvas + Lit Drop #2 (Anchorage, Fairbanks, with Juneau to come!)
Saturday, November 5th, 12:00 PM – 4:00 PM AKT
Virtual Phone Bank #2 (Have a phone? Volunteer from anywhere in Alaska!)
Sunday, November 6th, 12:00 PM – 2:00 PM AKT
Please take the time to sign up as soon as possible, ideally by NOON on Thursday, October 20th!
---
That's it for now! Remember, to help us do what we do at a time when it's evident that it needs to be done, click HERE to support ADP once, or become a monthly donor!
Keep an eye on our website events calendar and the events tab on our Facebook page for the latest upcoming candidate events. You can also find us on TikTok, Facebook, Twitter, and Instagram!
And as always, thank you for doing what you do to make Alaska a little (or a lot) more blue.